I don't know about where you live, but in Texas we have exactly 4 seasons and they are....Almost Summer, Summer, Still Summer, and Christmas. Right now it's actually 60 degrees outside- but it's kind of impossible to get excited about the holidays when it feels like I should be in flip flops and a super cute tankini. I'm just saying. :-P So I turn on my Christmas mix and bake pumpkin bread and drink peppermint mochas and pretend like it's about to snow. I'm sure you're wondering what my point is with this rant---I need some holiday inspiration.

I'm going to share my absolute favorite holiday recipe with you- and you share yours with me Scrapbook style! In exchange for even participating you will receive a quick page designed by the FABULOUS Brenian Designs and your name will be entered in a drawing for a $5 coupon to Misty's store. Now, you use one of Misty's kits, your name will be entered TWICE. I've even found an awesome template for you to use if you, like me, are short on inspiration. In the Funky Playground Designs forum they have this template and if you use it and then post to FPD you'll be entered for one of their drawings. It's like...win win win win all around for you!

Soooo...here's mine! It's a recipe for Chocolate Chip Snickerdoodles and I used Misty's "Let it Snowflake" kit.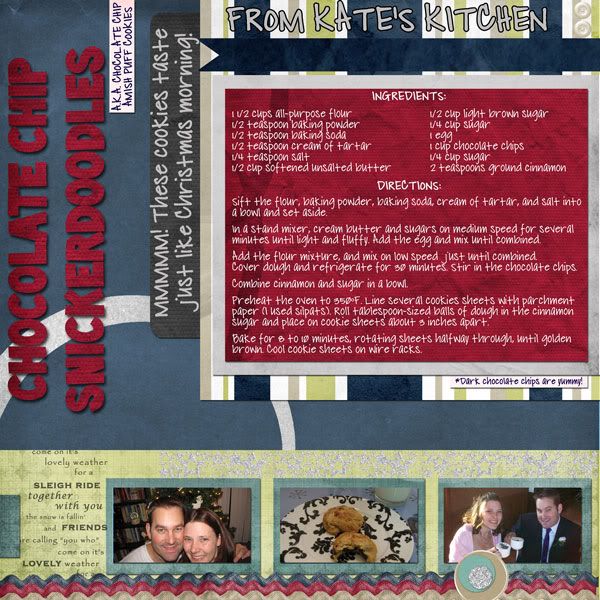 I like bullet lists, they keep things simple. Here's your challenge:
Scrap your favorite holiday recipe!
Post your layout to any of your favorite galleries, and share the link as a comment here by Wednesday, November 24 at 11:59 p.m.
Participate & receive a FREE QP and be entered to win a $5 coupon. Use one of Misty's kits and be entered TWICE.
This is my first ever blog post for any CT ever- so if I've forgotten something, please let me know! I hope you enjoy this challenge....I did!! :-)
~ Kate!